About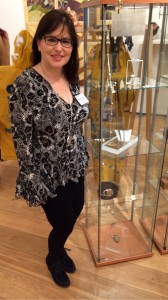 Taking inspiration from the art and opera, but also nature and Tai Chi, Silke designs jewellery and artefacts in silver and gold as well as base metals. Some work is enamelled, photo etched,  sculptured or cast.  Her pieces are bold, beautifully crafted and fun.
Silke graduated from Silversmithing and Jewellery Design at the Sir John Cass Department of Art, Media and Design (LMU) in 2012. She exhibited her work at the London Metropolitan University's summer show as well as New Designers 2012.
Her graduate collection won First Prize for Body of Work from The Goldsmiths' Company, as well as awards from the British Jewellery Association and H.S. Walsh & Sons Ltd.  The 18 carat gold Palette Ring design also won her a student Bursary from The Goldsmiths' Company in 2012.
During her studies Silke also won Joint First Prize for her design at a competition for the Worshipful Company of Horners in conjunction with the charity Smile Train.
Silke has been exhibiting at Designer Crafts at the Mall exhibition in January 2013 and 2014 and won a Distinction Award.  Her hinged and gilded Madame Butterfly Ring was displayed at the annual Goldsmiths' Craft and Design Council awards exhibition last year.
The World on the Moon
The Lovers Lights Gallery in Twickenham showcases The World on the Moon range from September 27th until November 01st, 2014. The jewellery consists of playful and compact star flowers in three different sizes, having been hand crafted into necklaces, rings, earrings and bracelets. Most work is created in sterling silver, some in brass, but gold plated in yellow, black or rose gold. The stacking rings look especially effective when combined in silver, black rothinium and yellow gold, or stacked to create a zebra effect.
This range is inspired by an Italian comic opera by Haydn (Il Mondo della Luna) and is a completely ageless collection. Silke is based at the Centrepunch workshops in London